Location:

Hachijo Island is a volcano Island which belongs to Izu Islands group located 290 km south of Tokyo. Although Hachijo is not far from Tokyo, we have found that a lot of the sea slugs which live in subtropical zone, temperate zone,subarctic zone here.

Basically water temp in Hachijo is low but the ocean current which is warm and rich in the nutritive substance passes near the Island. This ocean current calls Japan Current(Kuroshio) and comes from off Philippine and Taiwan. Therefore, we can see 3 diffrent zone's sea slug here.


Wherever you are coming from, Hachijo is easy to get to. All Nippon Airways (B737) has 4 flights every day from Tokyo domestic airport and it's only 45 min. short flight.
Air tickets fare:\25,000 for round trip.
Once you arrive in Hachijo, each diving staff will meet you at the airport escort you to the diving op. which is just 10 min. drive.
Diving:

The Island is small. It's take 10 min to 20 min. drive from dive op. to the dive site. There are more then 6 shore dive sites and 6 boat dive sites around the Island.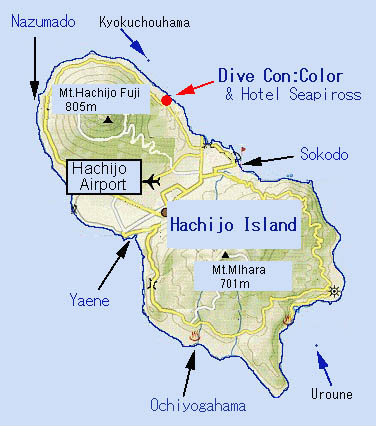 Main dive sites for branches are Yaene, Nazumado, Sokodo and Ochiyogahama. All are shore dive sites and terrific dive sites.
Average water temp is 64F in Jan to Feb. 65F in Apr. 73-77F in May to Oct. 68-70F in Nov. to Dec.
Average visibility is usually good around 50 - 66 feet.
From March to mid. July and mid Sep to end of Dec are good season for diving. April and May are may be the best season.
Dive Operater:

Dive operation Con:color is the best dive op. in the Island for barnchs.

The owner & guide Kotaro Tanaka lives and guides there for more then 8 years. He is a good photographer and brancher. He knows what we want to see. What he ever showed us before are click here!
Only one posi film DPE machine in the Island is in Con:color. So you can checking out what you photographed as soon as possible.
Diving rates for shore dive per day:
1 shore dive \ 6,000
2 shore dive \11,000
3 shore dive \16,000 with transport, guide (Incul.tank, weights)

Con:color is located on the Hotel Seapiross.
Contact & Booking:
Diving Club Con:Color
TEL/04996-2-7322
FAX/04996-2-7321
E-MAIL:info@concolor.biz
Booking available VIA email
Accomodation:

There are lot of Western style Hotel and Japanese style tourist home in the lsland

Hotel Seapiross:Western style rooms with all air-conditioned room with TV, telephore, Mini bar, bathroom.




GUEST HOUSE JYU-GOYA:Japanese style tourist home with 6 guest rooms. All air-conditioned Tatami matts room with TV,



Average accommodations rates in the Island is about \7,000-\8,000 per person.
Con:color has special rates for those accommodations start from \5,000 w/bf. Please contact Con:color

Other Transfortation:

Also an ocean liner form Tokyo bay by
Tokai Cruse Line(Japanese page).The ship departs PM10:30 every night and arrives at Hachijo at AM9:30 of the next morning.

\ 6,430 basic 2nd class
\ 9,650 special 2nd class
\12,860 1st class
\16,080 compartment for 4 person
\19,290 special compartment for 2 person
Fare is per person for one way.
2002/Jan.

NOTE:All prices are subject to change without notice.